Cvent announced today that Guanacaste has been ranked number 11 on Cvent's annual list of the Top 25 Meeting Destinations in Caribbean and Latin America for 2019. Cvent, a market-leading meetings, events, and hospitality technology provider, hosts one of the world's largest venue sourcing networks and MICE business booking platforms called the Cvent Supplier Network (CSN). The lists were compiled based on meeting and event booking activity across Cvent's venue sourcing sites, including CSN, through which more than $16 billion in business was sourced in 2018.
Glad to be a contributor to the growth of Guanacaste as a destination for not just tourism, but also interesting progress and meetings.
A Top Meeting Destination in Caribbean and Latin America And Still Growing
Cvent evaluated more than 11,000 cities worldwide featured on Cvent's venue sourcing sites to compile the eighth annual list. Activity was tracked from January 2018 through December 2018 and destinations were ranked according to the following criteria:
Unique Request for Proposals Received
Total Room Nights Received
Awarded Request for Proposals
Awarded Room Nights
Percentage of Qualified Meeting Venues
Number of Profile Views
To see the full list of the Top 25 Meeting Destinations in Caribbean and Latin America, visit here.
As a member of the Guanacaste community, it's rewarding to see this ranking, which represents significant growth in the region even compared to last year. With the opening of the Santarena Hotel and Beach Town growing more interesting every day, the next year should bring more new faces and interesting groups looking to work in Las Catalinas.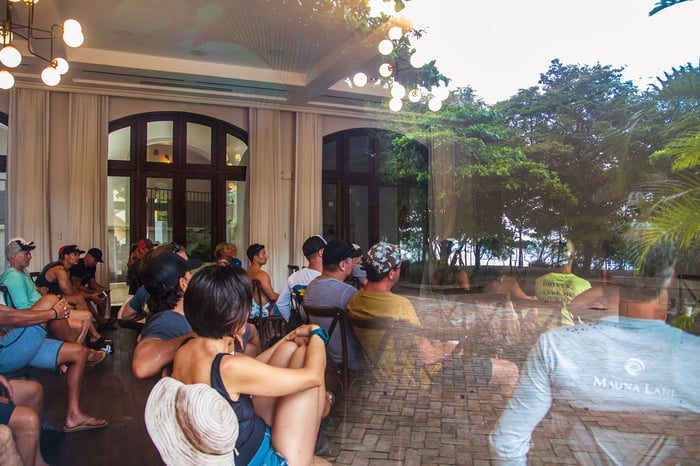 A Versatile Town for Meetings and More
Town's continued growth, with notable additions like the Santarena Hotel, has helped Las Catalinas continue to evolve as a home base and venue for meetings as well as many different types of events.
A big part of this versatility is the walking distance access to everything in town. For corporate retreats, venues cover a wide selection of outdoor spaces for creative work, thoughtfully curated indoor spaces for breakout sessions and workshops, and close-quarters spaces for meetings. The fact that town also has a wealth of physical activities, interesting shops and restaurants, and wellbeing options helps ensure that trips are not just productive, but also satisfying, healthy, and filled with enrichment.
For partners interested in wellbeing retreats, a number of spaces both indoors and among the outdoors offer venues for any pursuit, with culinary teams in town capable of creating diverse, interesting cuisine to suit diverse dietary restrictions.
Town has already seen a number of events make use of the many aspects of Las Catalinas. For partners like XPT, who hosted their waterman experience in June, the ability to go to the beach, the mountains, the gym, a training pool, and then back to their accommodations all without entering a car meant new opportunities, less overhead, and more time actually spent on the retreat.
Town's location in the heart of Guanacaste provided another opportunity for these visiting retreats and events, like the Culinary Institute of America. Students worked with ConnectOcean and Chef Gilberto to do a deep dive with local fishermen on sustainable fishing practices, paired with a course in the preparation of ceviches and sashimi, all facilitated by close, ongoing relationships with the community.
Looking forward to welcoming new meetings, events, retreats, and occasions to Las Catalinas in the coming year.