A day out with ConnectOcean Aquatic Academy and Dive Center presents the opportunity to dive with manta rays, tropical reef fish, and white-tip reef sharks, all as part of a conservation effort to protect their natural habitat in a Community Managed Marine Protected Area.
All dives with ConnectOcean are Citizen Science dives, where divers survey fish and vessels before tracking large sea life using laser photogrammetry, and all data is compiled and will be used to support the development of the Marine Protected Area.
This style of responsible ecotourism is at the heart of Costa Rica's efforts to protect its natural wealth by sharing it with others, and presents a chance for divers to make a tangible difference.
These Marine Protected Areas have led to far-reaching, visible effects on the environment in as little as a few years, meaning that the same divers who put the effort into developing these areas can see the ecosystem recover and thrive right in front of their eyes.
Setting Out
Dive trips can depart from either Potrero or the bay at Playa Danta, depending on if guests want to board the dive boat at the marina or swim out to the boat, and weather conditions. For either departure, ConnectOcean handles all dive bags and gear the day before.
The swim out is through the easy break on Playa Danta to the dive boat pickup, followed by a quick departure towards the Catalinas Islands, the area's most diverse dive site due to its blend of reef and deeper water fish.
ConnectOcean's team is multinational, drawing from a wide range of backgrounds and experience from across the globe, and the team always brings a welcoming atmosphere on the boat as the vessel sets off on a very short ride for the Catalinas Islands, a trip of less than 15km from shore to dive site.
The sun has just risen by this point in the trip, which often sets the Guanacaste sea shimmering and lights the entirety of the coast around Las Catalinas during setup and dive briefing. There are panoramic views from the boat to all of Bahía de Potrero and beyond, where forest covers the mountainsides all the way down to the sea, including to playas Penca, Danta, Dantita, Pan de Azúcar, Potrero, Prieta, and more.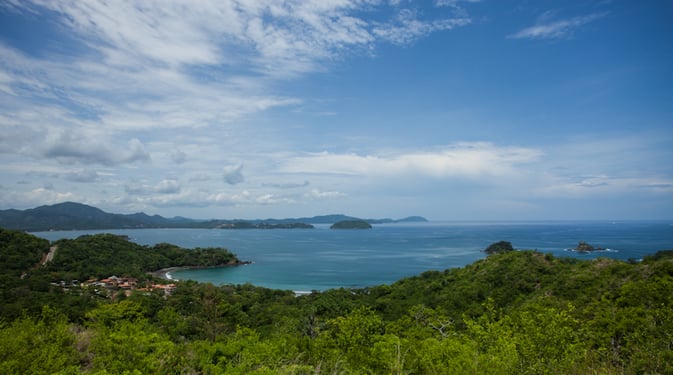 Preparation for the Dive
There are two pieces of extra equipment for data collection during a Citizen Science dive, a pair of laser photogrammetry rigs and a Baited Remote Underwater Video System (BRUVS).
The laser photogrammetry rig comprises a GoPro and two parallel lasers a very specific, known distance (50cm) apart. By lining up both lasers on a shark or ray, the data collection team can then use footage to extrapolate out to the exact length of the animal without needing any form of invasive capture or measurement. The BRUVS are slightly simpler, and comprise an anchored, free floating camera next to a chum pod, which is left away from the dive site to encourage shier species to investigate.
The pre-dive checks are as usual -- air live, BCD, weights, gauges, releases, inflating, deflating, mask and snorkel -- and then the captain navigates in to the put-in site, where divers enter the water via giant stride or back roll entry depending on the vessel.
The Dive
The Catalina Islands and surrounding areas offer a diversity of dive sites, all within a short distance from each other. This allows for diving under different weather conditions, giving the captain and Divemaster the opportunity to choose the safest and most appropriate dive site. Visibility ranges up past sixty feet on a very clear day, and the water temperature generally ranges from mid 70s to mid 80s Farenheit, with most divers choosing a 3mm wetsuit.
After touching down on the bottom, divers set off, smoothly looping around the island to explore a colorful seascape that includes king angels, blennies, little snappers, yellowfins, surgeonfish, puffers, and many other reef fish. On the sand flats stingrays often hide in the dozens, hovered over by cornetfish and occasional moray eels, and dive masters provide a familiar guide and an informative experience by pointing out species and identifying them on an erasable sketch pad.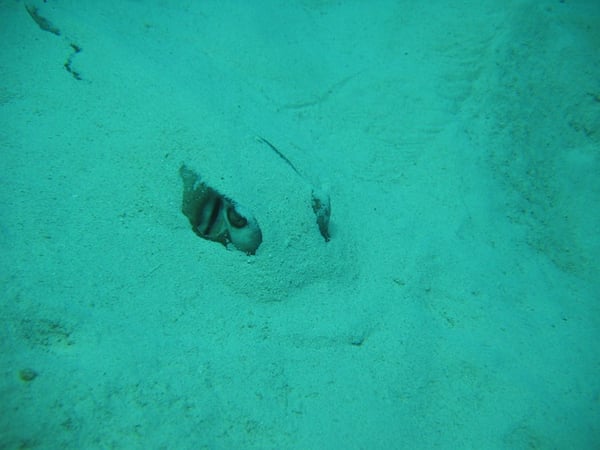 One of the major finds that's common on a dive at the Catalinas islands are small schools of whitetip reef sharks. These sharks spend a great deal of the daytime resting on the seafloor (as one of a few species of shark capable of doing so), and are among the several fish that are large enough to be consistently measured using the laser photogrammetry rigs.
In practice, the measurement is simple. The laser photogrammetry rigs are lit and tested against the seafloor, with cameras set rolling. Then, the next step is to find a perpendicular angle for each shark, either by swimming alongside the sharks or capturing footage from above their underwater canyon resting places. Moving slowly and steadily, it's possible to be less than thirty feet from eight or more of these sharks, each ranging from four to six feet long, without disturbing them.
Seen less frequently is one of the most sought after prizes of dives at the Catalinas Islands, Oceanic giant manta rays. Often the sky goes dark for a moment, flickering far faster than a cloud could have gone in front of the sun, which can sometimes be the only indication that these graceful giants are passing overhead.
Their movements are silent and often imperceptible as they move through the ocean, gliding effortlessly as they feed on krill, small crustaceans, and zooplankton. At times, they are known to be curious around divers, investigating bubbles or spending time circling groups, but for the most part they are glimpsed simply while passing through, and continue on their way out into the ocean.
After the Dive
On the dive boat afterward, there are snacks like fresh cut fruit and homemade banana bread, as well as hot tea to warm up between dives and while returning back to shore. There are other sites to explore, including Dos Sombreros, Dirty Rock, and a number of others whose names differ based on the dive master, but if conditions are good there's rarely a reason to leave the Catalinas Islands.
In all, diving with ConnectOcean using Las Catalinas as your dive destination provides a proximity to one of the world's most prominent manta ray locations, a lively dive site filled with tropical reef fish and small sharks, and the chance to make a tangible difference year after year towards the rejuvenation of the underwater ecosystem. There's always a reason to come back.