The arrival of Santarena Hotel in Las Catalinas, in the Guanacaste region, marked a new vision of life in the walkable beach town.
This elegant urban hotel in Costa Rica located just a few steps from the sands of Playa Danta. Bringing a unique presence to downtown, the Santarena has become a central part of the rhythm of town, drawing travelers and locals alike to dinners at Ponciana, casual cocktails on the rooftop terrace, special brunches, dinners, yoga sessions and meditations in the Conservatory, and one of a kind events like XPT's Waterman retreat.
It's with this in mind, we sat down with the minds behind Santarena to take a look at its vision. We've summarized what we've learned here, exploring the defining principles that guide Santarena and how they've come together to create town's newest urban centerpiece.
The Vision
The Santarena Hotel was envisioned as something unique in tropical America, a hotel with an urban character and sophistication located on the stunningly beautiful beaches of Costa Rica. The hotel was pictured as a true home for its guests, a timeless blend of well-loved traditional elements and modern architecture and interior decor features that give shape to the Santarena design.
From the beginning, there was a strong bond between the vision for Santarena and that of Las Catalinas. In many ways the Santarena hotel was built to be a true centerpiece to this walkable beach town, both physically via its location and also in its dedication to strong values, aimed to exemplify those of the town itself.
At the Santarena Hotel, people and their wellness are first priority, nature is carefully cared for and enjoyed, an easygoing sociability with friends old and new is at the forefront -- all values distinctly in line with those of Las Catalinas. Add in the casual elegance brought to town by Santarena's finely crafted culinary experiences, its exceptionally thoughtful and friendly service, and its delightful design and decor, and you have a project designed to take one interpretation of Las Catalinas to its utmost.
People see this vision coming to life any time they step out into Plaza Danta, with the steady ebb and flow of people in and around Santarena as it settles in as a part of town. At any point throughout the day visitors and guests could run into a friend for coffee on Santarena's terrace, spot a pair of colleagues enjoying a moment of peace and quiet at the patio on Calle La Ronda, or stop to enjoy a cocktail with a loved one as the sun sets before enjoying a delightful dinner at Ponciana.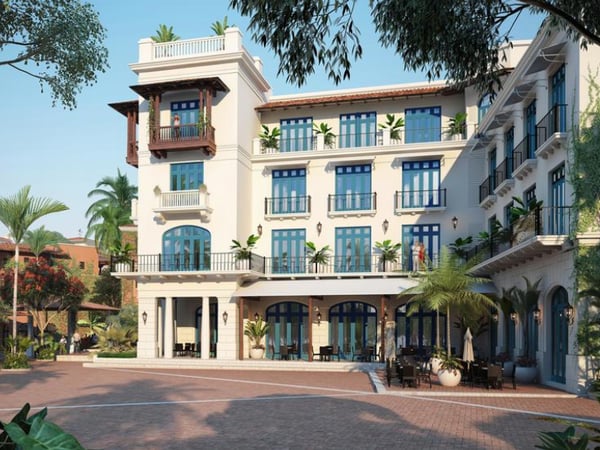 This flow of people in and out of the hotel, turning Santarena into "the living room of town", was built from the ground up, brought to life in part by the distinct moods designed into the lobby, atrium, hallways, rooms, and terraces.
Santarena, it was thought, would be a place to share and create stories, surrounded by a grand tradition drawing from the world's best tropical gathering places. Stopping to listen to the tales of the hotel's visitors, a thoughtful and interesting set of travelers from all around the world would be commonplace. It is a place where it would not be surprising to catch great writers, artists, and creators deep in conversation over Ponciana's lunch.
"Timeless" is a word that captures many of the distinct essences of Santarena. There is a strong connection to history in Santarena -- to the country of Costa Rica, to the traditions of great coastal cities of Central America and the Caribbean -- and yet there is also a touch of the wild, of freedom and the contemporary, drawing from both the hotel's urban influences and its deep connection to nature.
Modern comfort is subtly woven through every aspect of a building that feels well-aged and familiar, and the spirit of the place equally suits a barefoot stroll to the beach as a stylish evening bathed in golden light. The Santarena Hotel is a friend to both the suit and the surfboard, to both the elegant dress and the expedition backpack, to hiking boots and high heels, to fine wine and whiskey and wetsuits.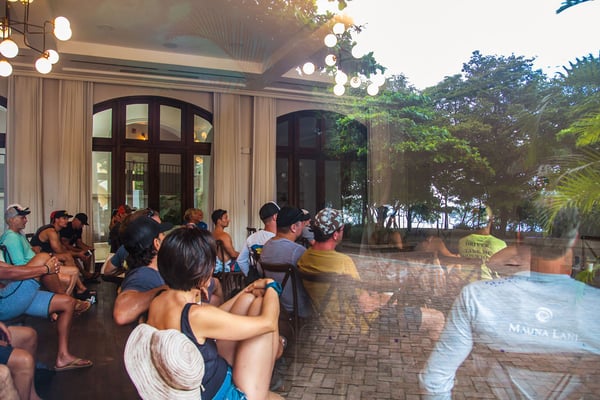 Ultimately, this vision has helped to create a distinctly Bohemian, urban vibe in Santarena, one that connects to the beach and the active lifestyle of Las Catalinas. The Hotel certainly has its spirit and identity, but it also has a distinct connection to town that goes beyond location.
Santarena is a Costa Rican gem, one that could not be found anywhere else in the world but here, in Las Catalinas. Its distinct and powerful sense of place, combined with the immense beauty of town and the hotel's strong identity which blends elegance and adventure, aims to inspire all who visit.