Passionate biker Jason Abernathy from Pura Vida Ride lives on two wheels. A competitive road racer back in his twenties, he now rides a Trek Pro Caliber 9.8 SL cross-country race bike and prefers long gravel rides and the sport of MTB in Costa Rica.
Jason is enthusiastic to share his love of the sport and talk shop at PVR in Las Catalinas, the town where Santarena Hotel is located, especially about night riding in the mountain biking realm in this Central American country.
Varied Ride Loops
Jason points out "I love that Costa Rica has lots of unpaved roads that are like mountain bike trails wide enough for a car."
Gravel rides he recommends in the area start a few kilometers away from Las Catalinas in Playa Potrero and connect via unpaved back roads to Cartagena, just over a 20k ride. For a full day trip, he recommends the trails up the Rincón de la Vieja volcano area, about 1.5 hours from town.
Many of these routes make up the Las Catalinas trail system, therefore they receive frequent maintenance, but bikers should always plan for unexpected obstacles, Jason says.
Mechanical problems, falling off and getting hurt happen even to the most experienced riders. And so, Jason is adamant that night riders always ride with a partner or carry a mobile phone. "I try to always ride with someone if I am going far. If I do go alone I stick to routes well-traveled, but not too well."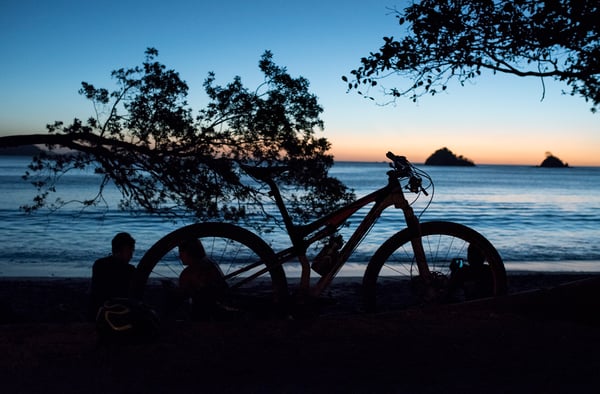 This is why the landscape of Las Catalinas makes for the perfect place to mountain bike at night. Built to comply with international IMBA trail design standards, he claims "it's really a haven for riding and you can do it year-round. These trails don't get old to me. I love them more every time I ride them."
Jason's favorites night ride trails are located around town. Most nights you'll find him attempting to beat his time in Strava for the Reto Las Catalinas or running a quick trial of the Triathlon route.
Items and Tips for a Night Ride
When Jason packs gear for a night bike ride, regardless of the trail and distance, it's crucial for him to bring certain items for safety and peace of mind. Most of the essentials are required for both experienced bikers and newbies.
In fact, Dirt Rag Magazine states that it's always good to carry spares of everything, such as lights, a first aid kit, an extra layer of clothes, food and water packs, a portable battery for your phone, cash (for emergencies), and a night camera.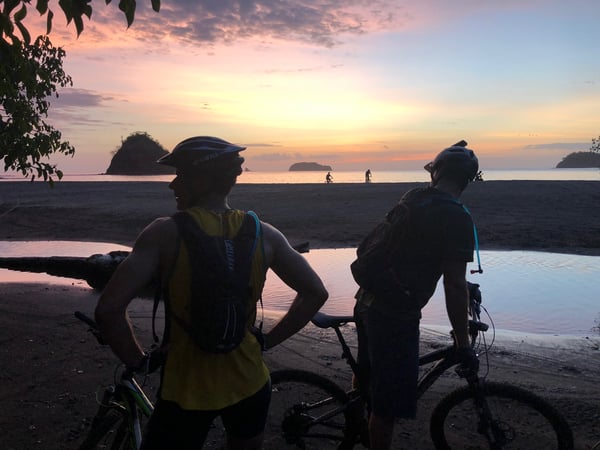 Other items required for a night mountain bike might include extra tires, helmet and pads, chains, shifting mechanism, crank arms and pedals, and axles, The Global Mountain Bike Network recommends.
"Since the (Las Catalinas') trail crew keeps the trails nice and groomed, it's easy to ride day or night because you don't have to worry as much about things that can cause trouble," Jason says.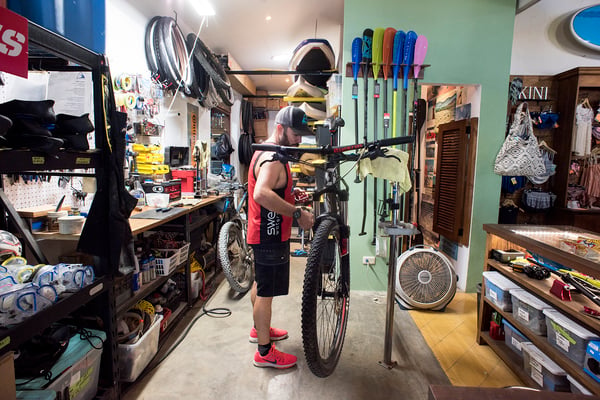 Though the trails are well mapped out and maintained around town, it's good to get the right advice when renting a bike to live a night MTB adventure in Costa Rica. At the Pura Vida Ride shop at Las Catalinas, riders can rent or buy equipment and accessories capable of traversing over 30 km of world-class coastal single-track mountain bike trails with astounding scenic ocean views.
Lastly, when riding the trails of Las Catalinas under the moonlight, Jason tries to avoid falling victim to common mistakes, like riding alone or in unknown areas, with a loose light bracket, using a light that is not bright enough, or not bringing a repair kit. All these missteps can easily ruin the experience, he says.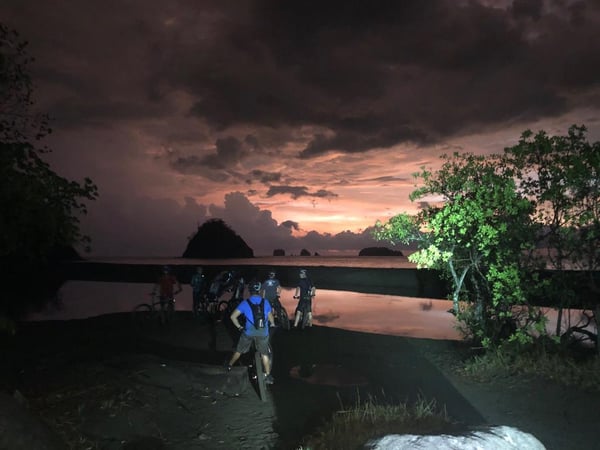 An Alternative Way to See Costa Rica
Mountain biking at night in Costa Rica is a different way to enjoy this destination in the American tropics. One which taps into the country's more adventurous recreational side in the outdoors and the wild.