LaPula Shop and Studio was founded by Ivan and Mhairi, two longtime friends of Las Catalinas, out of a passion for design and art, as a non static and welcoming space that is part shop, part living room and part office.
The result is an eclectic, artistic presence in town, one that serves as a platform for thoughtfully curated crafts and fashion, as well as contemporary art by emerging artists around the country.
The Vision for the Gallery
LaPula's gallery came to be due two key factors that Ivan and Mhairi noticed while living in the country. The first was that in Guanacaste, the artistic culture tended to be more traditional, with an emphasis on craftwork and preserved traditions. Contemporary artists from other parts of the country also rarely chose to expand into Guanacaste, which left an opening in the region for a more contemporary art presence.
The second factor was that San José's art scene was highly saturated, and featured a large number of artists all competing for the same wall spaces, galleries, markets, and exhibitions. A further focus on the more established, well known, and experienced painters with well-documented trajectories left many young, passionate, and talented artists struggling to find exposure through traditional channels.
"There are several galleries in San José, but the galleries have tended to focus on experienced, well known painters," Ivan explains. "We wanted to work with emerging contemporary artists, to provide a platform to showcase their work."
LaPula curates the art of these Costa Rican artists for the gallery, which offers the artists a platform in which to showcase their work. In turn, this contemporary art provides a window to discover contemporary art for people living in Guanacaste, international visitors, and even travelers from San José. Discovering the work of these emerging artists can be especially surprising for visitors from San José, who find that much of the work in the shop was produced in their same city.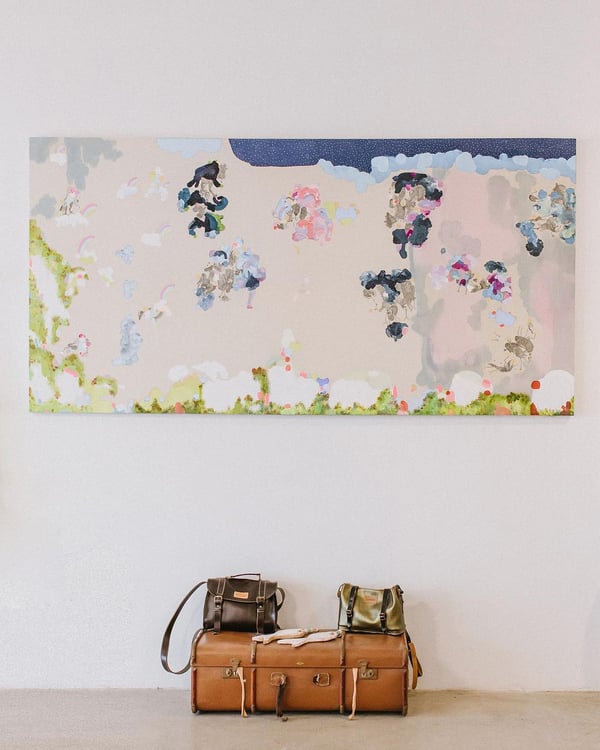 "Va a Llover" from Jonathan Dennis, a Multimedia on Canvas
Curating Art in Costa Rica
There is not much of an online presence for many of these emerging artists, Ivan explained, which means that finding them, forming relationships, and curating their work is best done with a personal approach. Curating the goods and artwork in the shop is an ongoing process, done by traveling the country, visiting small artisan shops, design fairs, as well as independent galleries, workshops and studios. The result is a mixture of formats which range in size from small pieces to larger works and cover a wide variety of styles.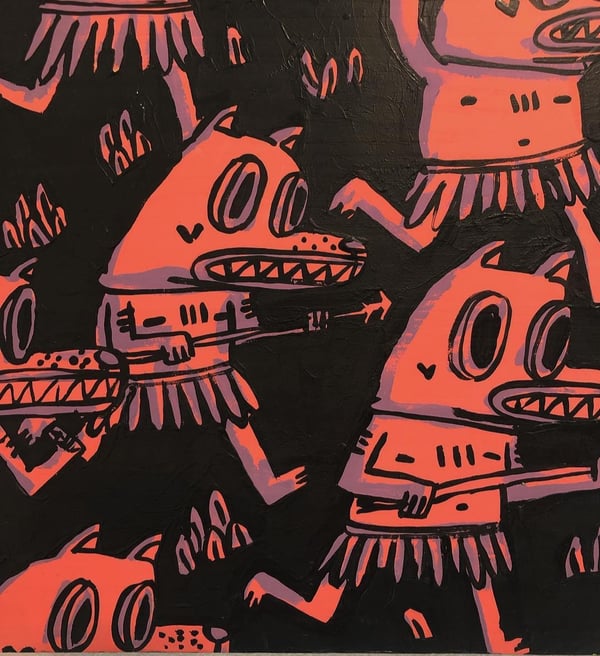 One of the few small format paintings of large format illustrator Diego Fournier, whose work you can see in many walls and buildings around San José as murals.
Throughout the process of curating work for the gallery, Mhairi and Ivan began to form important relationships with some artists, like Sergio Leiva and Diego Fournier. As Ivan explains, the contemporary art community in Costa Rica is tight-knit, and these first relationships led to other connections and other talented artists.
"San José is not that large of a city, so many artists know each other either from galleries, through friends, having worked together or collaborated, or even from sharing workspaces. You meet one person, and they know many more, and they keep an eye out for work that might fit with LaPula's concept. It's a good thing for us, and it's a good thing for the artists."
Crafts, design and art fair and festivals are another gathering ground for artistic talents. One example is around Christmastime, when arts universities in Costa Rica have exhibitions where it's possible to see new artists as they debut their work.
LaPula Now
Ivan and Mhairi are happy with the current art collection in LaPula, which includes artworks by Sergio Leiva, Aire, Jonathan Dennis, Guillermo Tovar and Diego Fournier and the gallery will only continue to evolve. There are always new artists and new work to add fresh ideas and styles, and as Ivan explains, the independent spirit upon which LaPula is founded will remain.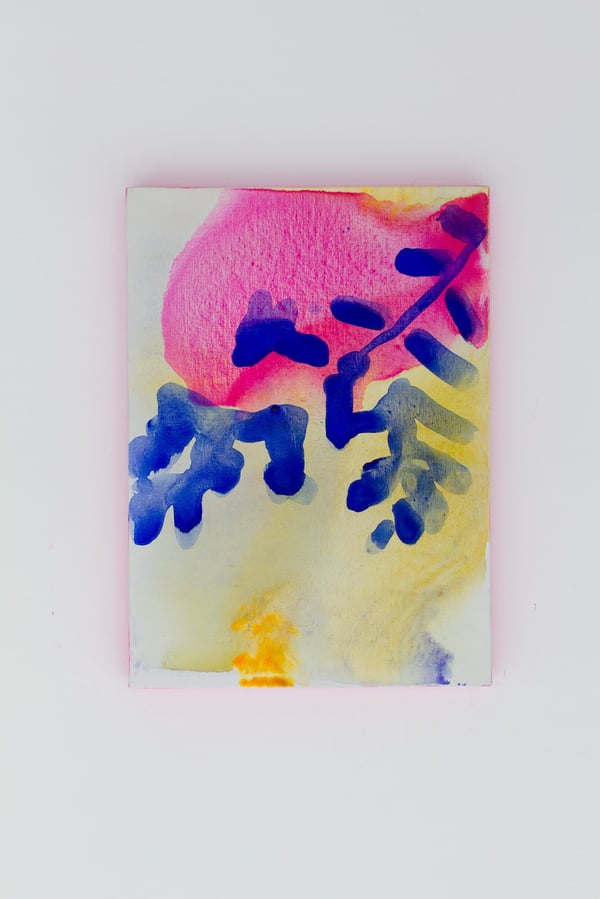 "Guayabo", acrylic on canvas by Sergio Leiva
The goal is for LaPula to always focus on emerging artists, showcasing a sample of the young, creative, current and interesting ideas that are happening in Costa Rica. These artists aren't unknown, but they're also not widely renowned just yet, and Ivan and Mhairi like that. LaPula is a space offering a platform for emerging artists to get further exposure, and for people that enjoy art to find something new."
LaPula is at Plaza Central in Las Catalinas, on Calle La Ronda between Wake Day Spa and D'Aqui Design.