Since the opening of the hotel, Santarena has hosted events like XPT's Waterman Experience in June, the Culinary Institute of America's Costa Rican visit, as well as a mix of dinners, celebrations, weddings, retreats, meetings, yoga sessions, wine tastings, and more.
It's a sign of the many possibilities Santarena and the walkable town of Las Catalinas present for retreats, especially those that focus on physical health and personal wellbeing.
Beauty and a Steady Rhythm of Life
At the Santarena Hotel, nature is cared for and people and their wellbeing are valued first and foremost. Surrounded by the vibrant car free town of Las Catalinas, the tropical dry forests, and the beautiful beaches of Playa Danta and Dantita, it's easy to settle into a more steady way of life here, one where the freedom of our own two feet can be returned, our pace of living can become more sustainable, and our connection to nature can be restored.
For retreats focusing on personal wellbeing, this provides a strong base upon which to build. When the town and the hotel are by their nature suited to a healthier, more active, more thoughtful, and more connected way of living, the meaningful work done on these retreats can be even more impactful.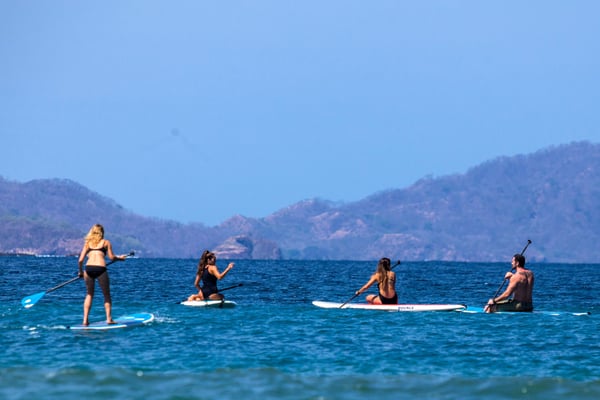 Take for example 2019's XPT Waterman Experience, which will return in 2020. For XPT, walking distance access to everything in town changed the dynamic of the retreat. The crew could go to the beach, the mountains, the gym, a training pool, and then back to their accommodations all without entering a car, which meant new opportunities, less overhead, and more time actually spent on the retreat.
Throughout town, the mix of indoor venues and outdoor spaces offer a blend of urban, beach, and tropical atmospheres. From beaches to trails, from central plazas to rooftops, these spaces are adaptable to occasions ranging from intensives on various practices to time spent in the outdoors to large and joyful celebrations.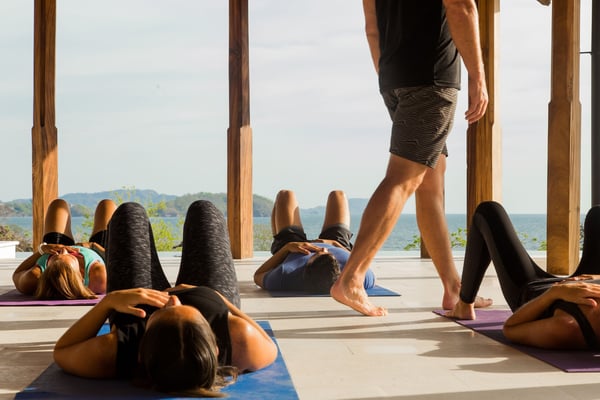 The possibilities of Santarena as an event destination will continue to grow. With the arrival of the Center of Joy in 2020, plus new homes and plazas throughout town, Las Catalinas will add to its already diverse palette of options for retreats of all forms.
There's a reason that the international meeting community has taken notice of the Santarena Hotel's event spaces, with the world's top meeting planner CVENT naming Guanacaste in its Top 25 Destinations in Central America. Taking the #11 spot, Santarena was featured on CVENT's blog, with a writeup focused on the possibilities of the hotel and town as a destination.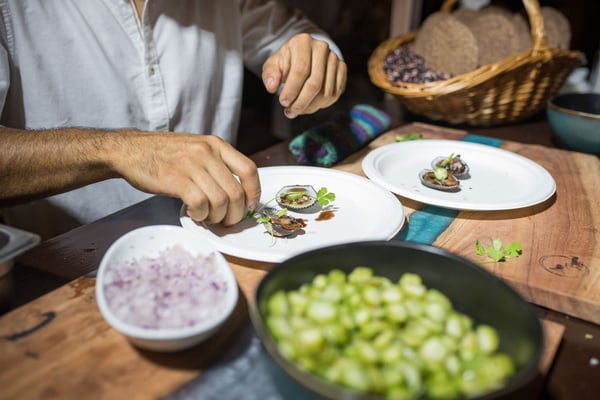 Years of weddings, retreats, and last year's Guanacaste Nights events have brought celebrations of food, drink, and life. The Intrepid Challenge, Paddle Battle, Triathlon, and XPT's Waterman have also served to showcase the town's convenience for athletics and adaptability to any form of outdoor fitness.
The beauty, facilities, services and amenities of town, the ocean, and rejuvenated forests, the ability to slow down and reconnect at a walking pace, all help add a new dimension to events and retreats in Las Catalinas, retreats that focus on personal health and wellbeing.
To learn more about hosting a retreat in Las Catalinas through the Santarena Hotel or the homes in the Las Catalinas Collection, reach out to our event liaison, at groups@lascatalinascr.com.