After a long day at the beach, mountain biking or hiking, dinner is in order at Ponciana restaurant, located just off of Plaza Danta in the heart of beachtown Las Catalinas, at the base of the Santarena Hotel.
A refreshing course at this casually elegant restaurant & bar is the beetroot salmorejo. This course is a summer dish that is simple, sincere, and healthy.
Sugar With Health Benefits
The salmorejo de remolacha stands out as diners peruse Ponciana's dinner menu due to its name and because of its main ingredient.
For the well dined, it is easy to recognize the salmorejo as a classic Spanish dish composed of four basic ingredients: tomatoes, bread, olive oil, and garlic. Ponciana's creative culinary team elevates it by adding Costa Rican beets to the recipe to round out the taste and make it even fresher.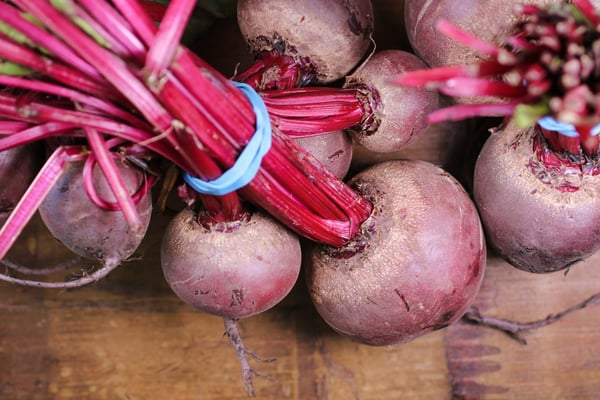 For culinary traditionalists, the particular flavor and texture of the tomato is still present, but the beet's sugar and color are a welcome twist. As Costa Rica produces delicious tomatoes and beets that are very sweet and that both the tomato and beetroot stand alone with confidence, it is only natural to try them together.
"Beet is highly consumed and produced in Costa Rica. In addition to providing great flavor, it offers plenty of health benefits to our body. Our particular salmorejo recipe keeps the tomato but adds 50% raw beet sugar," says the creative culinary team at Ponciana.
This rich, purplish course transports diners to a warm summer evening on the Basque coast. If imbibing, it is well paired with a glass of Albariño or Txakoli. "This salmorejo is a combination of campesino roots with Spanish flavors I've tested throughout my career. I would say that it is a tribute to Spain from Costa Rica," the chefs add.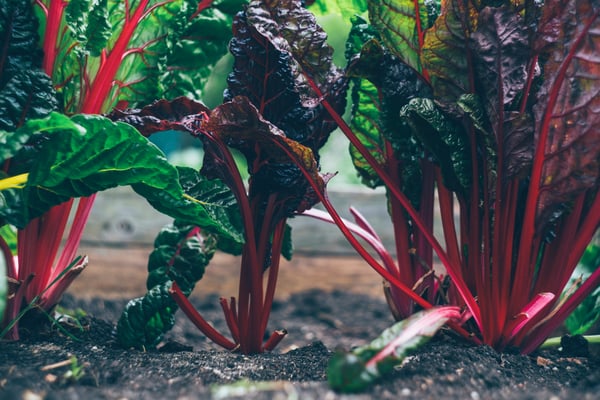 Because of its creamy, cool texture, the beet salmorejo is an ideal dish to stand a hot summer evening. It is also a course that works great as a fresh stand-alone or as a side dish.
Rooted in the Local Flavor
Ponciana's salmorejo de remolacha also pays tribute to the Costa Rican farmers that cultivate beet, a key produce in Ponciana's kitchen as an ingredient which respects locally produced and sourced ingredients.
"It is a dish that respects the product, which is simple. Our kitchen is sincere, honest, and playful. We believe that nature has already produced the perfect ingredients. Our duty as chefs is to make them shine, hence the respect to the product," the team explains.
The team prefers to use smaller providers and family-owned farms to source products, which they believe helps to ensure the quality of each ingredient, and also keep Ponciana grounded. Every dish has a history, a story to tell that comes from the harmony of local roots, international inspirations, and the utmost care in preparation inspired by both land and sea.
Today, Chef is a keen enthusiast of locally grown ingredients, buying local produce, and simple recipes that bring out the best of Costa Rica's cuisine.
A Delight to Eat, A Delight to Make
Chef tried different mixes of ingredients before landing this final salmorejo version. He concluded that beetroot worked perfectly due to its healthy qualities: a high concentration of natural sugar, folic acid, vitamin C, magnesium and potassium, and anticarcinogenic qualities.
The creative culinary team also wanted it to be optional as a 100% vegan dish. With the simple modification to be served without the goat cheese garnish, it doesn't contain any ingredients of animal origin. The dish is additionally flexible to potentially include other fresh ingredients. The salmorejo's malleable recipe makes it a great dish for Ponciana patrons to replicate the dish at home.
However, Chef is adamant when it comes to three key ingredients: local produce and ingredients, easily obtained in farmers' markets and local farms, extra virgin olive oil, and ripe local tomatoes. If asked what to replace the beet with, Chef suggests cucumber or melon. For an extra touch of flavor, Chef proposes sweet red peppers and Macadamia nuts. It is also delicious to eat with Serrano ham or with a side of fresh-baked bread.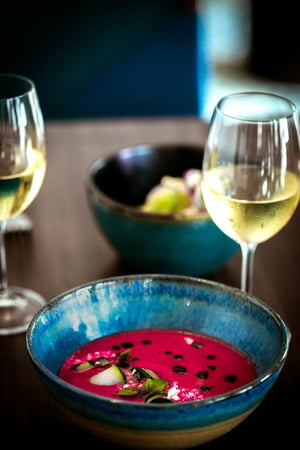 The creative culinary team offers a simple Beet Salmorejo recipe for at-home chefs cooking for a party of six:
1 kg tomato
500 g beet
200 g bread from the day before
150 ml extra virgin olive oil
75 ml apple cider vinegar or sherry
1 clove of garlic
Salt and pepper to taste
Chef recommends selecting ripe tomatoes and letting the bread soak for at least 12 hours (preferably overnight). The bread must be well soaked for the proper creamy texture.
Salmorejo de Remolacha's Cooking Directions:
Chop the garlic and remove the germ to avoid heaviness
Marinate garlic and the remaining ingredients overnight in a plastic container
The next day, process the marinated mixture in a blender or food processor;
Emulsify the mixture with olive oil
Add salt and pepper to taste
Garnishes may also be added to taste; Chef recommends thinly sliced cucumber, crumbled goat cheese (or soy cheese for a plant-based option), micro greens, and chopped cashews. For the bittersweet palate, he suggests a drop of Jerez vinegar.