Looking around an average Costa Rican neighborhood, you'll notice the country looks different from its fellow Central American nations. In fact, within each region and even within a few city blocks it's possible to see a range of styles that traverse time and architectural traditions.
As a whole, major cities in Costa Rica have a distinctive style that reflects the history and culture of the region, with enough variety and history scattered into each to delight and inspire architecture enthusiasts in this Central American destination.
For example, one street in a neighborhood like Barrio Amón in the capital city of San José may feature neoclassical buildings right next to vibrantly painted Victorian homes, both across from an Art Deco restaurant, according to Build Abroad.
Here are some of our favorites buildings that are representative of the architecture and design in Costa Rica:
Liberia
Nearly all Costa Rican towns and cities were at one time dominated by the Spanish colonial architecture you can find throughout Mexico and Central America. This exquisite Spanish rococo style known as Churrigueresque (named after Madrilenian architect José Benito Churriguera) fuses strong lines with flamboyant ornamentation. Today, only a few examples remain, but the ones that do are striking.
Strong examples of this architectural and design tradition remain standing in cities like Liberia. Located in the Guanacaste region in northwest Costa Rica, Liberia is a city with deep traditional roots that is largely untouched by mass tourism and urbanism, Tico Times reports. Architecturally, that's illustrated by gleaming whitewashed buildings, old white gravel streets, and welcoming colonial squares, part of why the city is called "La Ciudad Blanca" or "The White City". Here, Calle Real is the perhaps the best avenue for viewing historic buildings.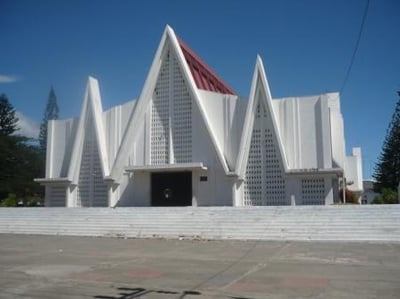 Intermixed with this traditional style and culture are contemporary Avant Garde buildings, including the fortress-like Comandancia de Plaza and the distinctly modern La Iglesia de la Inmaculada Concepción de María.
Visitors to the Guanacaste region will fly into Liberia airport, which presents an excellent opportunity for architecture enthusiasts to take a few hours to check out the distinctive architecture. Our favorite suggestion is to stop by La Casa de Calá to grab lunch -- located on Calle 2 and Central Ave, the restaurant is located in an old converted home, and you can see the traditional walls exposing the typical construction methods of traditional Bahareque construction.
San José
San José is defined by a very modern architectural style. Much of the historic building stock has been replaced with high rise buildings similar to other modern global capitals, and many of these buildings, such as Torre De Usos Mixtos EN, are considered architecturally significant, Costa Rican Journey states.
That's not to say there's no historic architecture tradition in San José. In Barrio Amón you'll find the highest concentration of colonial buildings in the city, Loney Planet reports, plus a collection of large stately manor houses built by wealthy cafetaleros — coffee plantation owners — in the late 19th century.
This vibrant and colorful neighborhood is walking distance from Castillo Azul, a building that combines Neoclassical and Mediterranean inspiration and serves as one of the more iconic and historically significant structures in Costa Rica.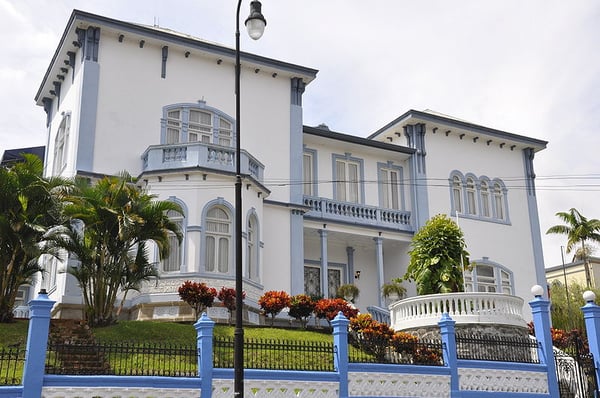 Situated in la Plaza Cultura, the Teatro Nacional is another of Costa Rica's most revered buildings, Loney Planet says. Built off of the success of the country's coffee exports, this was an important landmark to Costa Rica's development just 60 years after it became a sovereign nation. Designed with striking Neoclassical columns at the end of the 19th century, this theater features beautiful and elaborate marble work that is a must-see.
There are also a few interesting architectural landmarks that don't lend themselves to any specific eras, adding to the eclectic nature of the town. One particularly striking element of the San Jose skyline is La Escuela Metálica, or "Metal School," which was manufactured in Belgium and given to the city in the late 19th century during the nation's educational revolution, Costa Rica City Tour informs.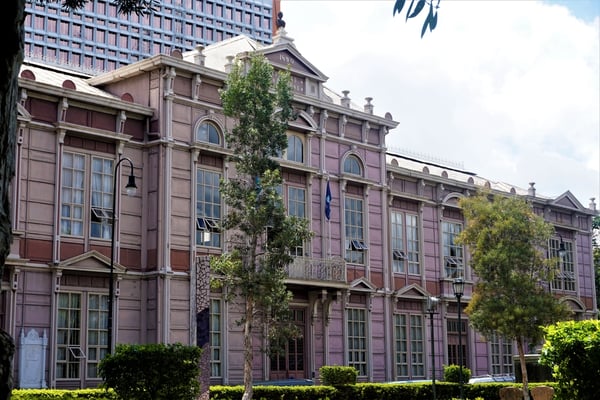 Another distinct area of town is Barrio Escalante, an art-revival area stitched together from the constant creation and renovations of the city, Tico Times reports, sporting architecture stretching back to Coffee Haciendas, and tracing a timeline through modernism and into the postmodern era. There's perhaps no better place to see the collision of architectural styles into a street side mosaic than here, and the area is definitely worth a visit.
Cartago
The original Costa Rican capital, Cartago is one of the oldest existing communities in the country. It's a rare hub for historic buildings, despite being almost completely destroyed by a volcanic eruption in 1723.
Cartago is home to the Basílica de Nuestra Señora de Los Ángeles, a classic Byzantine style Roman-Catholic church built in 1639 and restored in the early 20th century. One of the biggest architectural draws of the city, it's also Costa Rica's most venerated religious shrine and a major pilgrimage site in the region, Lonely Planet adds.
Not far from the Basílica is the site of another historic church: Las Ruinas de la Parroquia. Also known as Las Ruinas, or "The Ruins," this site is home to a 19th century Romanesque church that was partially completed, then destroyed by an earthquake, only to be partially completed and destroyed by an earthquake again! Only some walls and staircases remain today, but it's still one of the biggest historic draws in the city, according to USA Today's 10Best ranking of top destinations around the world.
For Meso-American history buffs, Cartago is one of the last cities on the way to Guayabo, a pre-Columbian ruin that, while less dramatic than many other Central American ruins, is no less essential to Costa Rican history, Go Visit Costa Rica informs. The area was inhabited for more than two millennia starting in 1000 BC, before being suddenly abandoned in 1400 AD for reasons that remain a mystery. The area is significant for the ancient residents' use of round rock platforms as the base of old wooden structures, which were surrounded by ponds and aqueducts that are an example of early civil engineering.
In all, an excellent place to reconnect with some of Costa Rica's oldest history.
Las Catalinas
One of the newest towns in Costa Rica, the walkable beach town of Las Catalinas is a striking example of New Urbanism, a pedestrian friendly beach town that integrates beauty, both natural and man, made into the course of everyday life.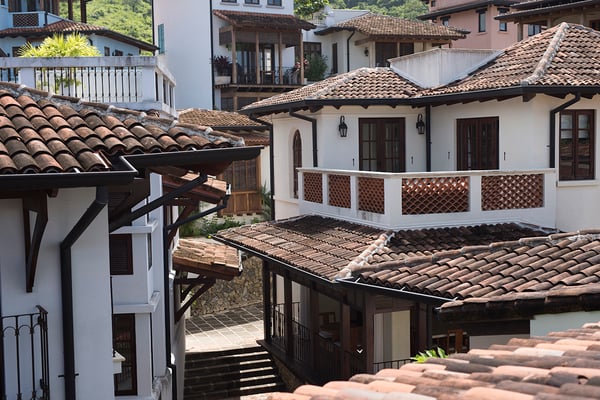 Visually, Las Catalinas is inspired by examples of timeless architecture in Europe, Costa Rica, and the New World Tropics. Town architects seek to design buildings that build upon both lost and living examples of Costa Rican architectural traditions, constructed to be ideal for the town's coastal tropical environment, last centuries, and facilitate a more healthy, sustainable, and fulfilling way of life.
One such example is the Santarena Hotel, which pays homage to the old mansions of the great coastal cities like Havana and Cartagena, but is also integrated into the modern flow of life as "town's living room."
Throughout the beach town, urban designers pulled from elements of French, Spanish, Colombian, Nicaraguan, and Costa Rican precedents -- if you enjoy towns like Cinque Terre, Andalucia, and Eze, San Sebastian, Cartagena, and Seaside, you will find echoes of familiar elements here, evolved to something entirely new.
In Las Catalinas, access through the community on foot — walkability, as New Urbanists call it — puts people face-to-face with one another in a way that car-centric communities don't. Las Catalinas is a car free environment where people get around by walking or biking, from their villa to the market and down to the beach.
It's no surprise that a number of people are making the move and decide to move to Costa Rica and live in Las Catalinas full time.
Discovering Costa Rica
The Costa Rican architectural tradition is evident in landmarks, cityscapes, and silhouettes in this Central American destination, which draws architecture and design lovers from all over the world.
From churches to public buildings and entire cities and beach towns, it is a unique way to discover Costa Rica and enjoy a unique part of the country's history.